The best foldable & washable yoga mat in 2022
Looking for a foldable yoa mat for travel or for outdoor yoga? Look no further! We share our favorite brand and tell you what we love about it.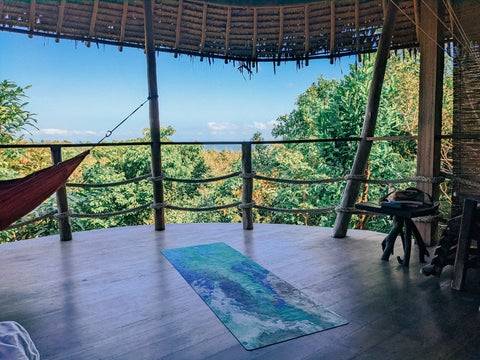 What makes a yoga mat GREAT in 2022?
- beautiful, vibrant designs
- recycled materials
- non-slip surface
- suitable for dry and wet hands
- good cushioning
- rolls out flat
- plastic free packaging
- easy to transport and wash
The AMAROO yoga mats have been exactly created with this in mind: They are produced in small batches and every mat inspires you to travel mentally to a new place. The base of the mats is made from natural tree rubber: non-toxic, sustainable and biodegradable. For the surface of each mat, recycled PET from plastic bottles is used as a vegan suede microfiber topping. To keep the CO2 footprint low, the AMAROO yoga mats arrive via railway from the manufacturer. They are delivered without any additional plastic packaging to keep the environmental footprint low.
Lightweight and foldable yoga mats
Heading to the yoga class straight from work? Or, meeting a friend after yoga? Carrying a big yoga mat on top of your laptop and other belongings can be a challenge at times. So, for easy transport and to keep your hands free the AMAROO yoga mats are lightweight as well as easy to fold to the size of a MacBook.
Check out the entire AMAROO yoga collection.